First week of a new year.
First week (or part of a week at least!) back in school.
First week to walk some miles towards the #walk1000miles challenge.
First year I plan to do the 1000 miles 'boots on'.
After my first walk of the year in Essex on Monday (4.02 miles), on Tuesday I managed a walk around Ickworth garden and woodland. It is our local National Trust property and a favourite place for quickly 'blowing off the cobwebs'.
I had made an early morning trip to Heathrow to drop off our son and when I met my friend for our walk it was raining heavily. So we did what any sensible person would do – went and had tea in the cafe first. It was a fairly quiet day so we were able to spend much longer over our conversation in the warmth of the tea room. By the time we left, the rain had slowed to a few light spots and we enjoyed Lady Albana's Walk through the trees. (3.05 miles)
On Wednesday I was back at school and so for the next three evenings I went back to walking around the pavements of our estate with my husband in what we call our 'midnight rambles'. Although it can be a bit cold and windy in places, the fresh air on my face definitely helps me to sleep better and stops me from being a couch potato – after all I have to reach my 10,000 steps per day! (1.9, 0.97 & 2.2 miles)
On Saturday we decided to use our Christmas present – Suffolk: 40 Coast and Country Walks by Darren Flint & Donald Greig. This is a lovely pocket-sized book which took us on a 5-mile circuit around Pin Mill on the banks of the River Orwell near Ipswich.
We have avoided Pin Mill in the summer because it get so busy, but by using the free parking in Chelmondiston we were able to join the circuit part way around it. Unfortunately we were unable to find an indoor seat at the Butt and Oyster pub in Pin Mill and as it started to rain we decided to avoid the tables outside.
The beauty of this walk was the wide variety of terrain – village, farmland and parkland,

coastline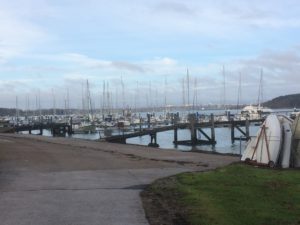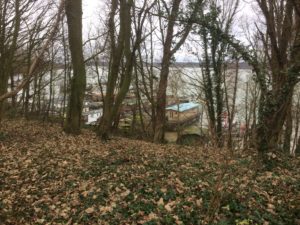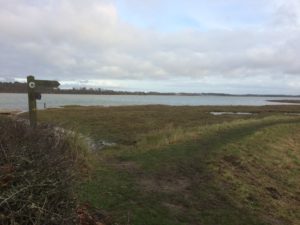 and woodland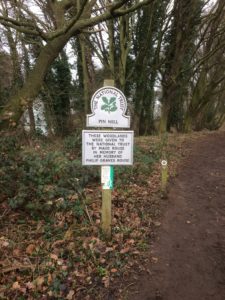 and we eventually managed a drink in the Red Lion pub at Chelmondiston,
so all was not lost! We will definitely go back again later in the year. (5.22 miles)
Sunday was another walk around Ickworth Park. It was rather muddy underfoot in places alongside the river, but on a cold and sunny winter afternoon, it was the perfect place to be. (3.42 miles)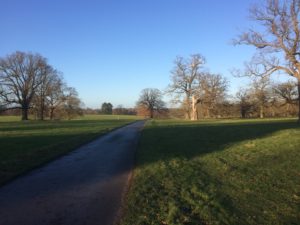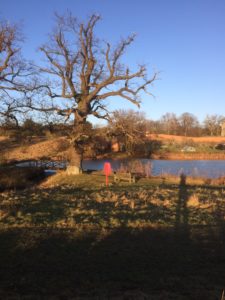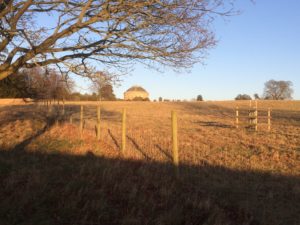 I'm happy with my new year start and I am determined to get fitter, walk with more friends and see new places, both in Suffolk and in other counties. Will you join me?
Total week 1 = 20.78 miles
To reach 1000 miles target = 979.22 miles